#27 Recervery Soup | CPLGP Soup with Kimchi on top Ⓥ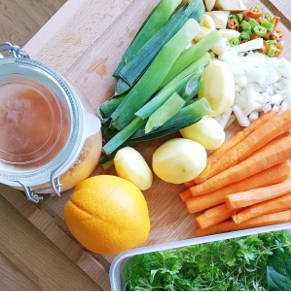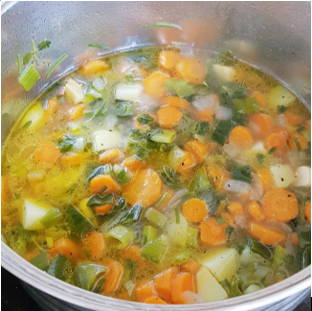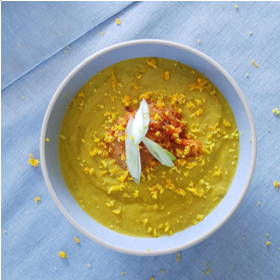 A delicious Soup Recipe - quick to make and including a batch of vegetables and fresh herbs. 
 Done in 20 minutes.
9 carrots, peeled, washed and roughly diced 
4 potatoes peeled, washed and roughly diced 
½ leek, cut into smaller pieces 
1 thumb size ginger, peeled and sliced 
2-3 chili peppers, roughly chopped 
1 onion, peeled and roughly diced 
5 garlic, minced 
Grapefruit zest 
1/2 tsp salt 
1/2 tsp black pepper 
1 tsp Soy sauce 
Small chunks of fresh chives, thyme and parsley chopped together 
1 Spoon Kimchi
3 1/2 tbsp olive oil
1. Heat up a thick bottomed pot with the olive oil on medium high heat. Choose a pot that has a lid and is bigger than the all ingredients can fit in. 
2. Add carrots and potatoes to the pot, stir them gently. Make sure that they don't stick at the bottom of the pan. This is when you can also adjust the heat. If it is too high, potatoes tend to get stick to the bottom and get burned. 
3. Once carrots and potatoes turn slightly into translucent at the edge, add garlic, onions, chillipepper, and leeks. Mix them all up together gently. Add salt. 
4. Once the vegetables are well covered in oil, and start to change colors, add the herbs. 
5. Quickly stir up all the ingredients so the herb scent and flavour gets to oil and other vegetables without getting too cooked. Takes about 1 minute. 
6. Add a bottle of water. The water should cover the ingredient just enough. Turn up the heat to high and bring it to boil for 5 minutes or until carrot is cooked. 
7. Cover the pot with the lid, turn down the heat to low. Let it simmer for another 5 minutes. 
8. Turn off the heat and cool it down a bit. Get the blender gun in the pot or use the blender. 
9. Put appropriate portion in a bowl, garnish with a spoonful Kimchi, spring onion slices and Grapefruit zest.