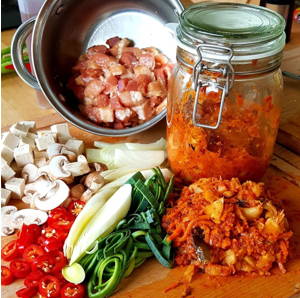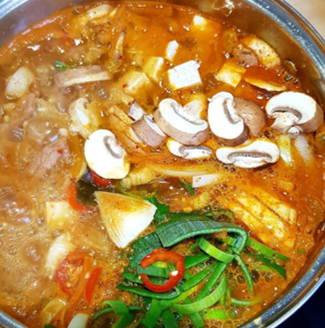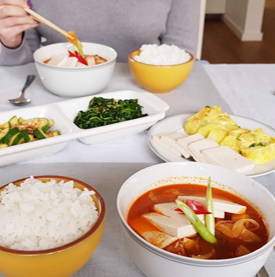 The key for this Kimchi Jjigae recipe is that it uses authentic well-aged Kimchi. The best kind would be older than 6 months to 2-3 years old.
 Done in 90 minutes.
3 roughly sliced pork belly strips
½ sliced leek 
2 sliced chili peppers 
7 sliced brown mushrooms 
½ chopped onion 
5 minced garlic cloves 
½ tbsp red pepper paste 
1 tsp salt 
1 tsp black pepper 
2 cups chopped Kimchi 
1 package firm tofu diced 
1.5 litre vegetable broth 
2 tbsp soy sauce
2 tbsp sesame oil 
½ tbsp vegetable oil 
1. Marinate pork slices in 1 tbsp soy sauce, 1 tbsp sesame oil, ½ tsp salt, ½ tsp pepper and 2 minced garlic cloves for 15 minutes. Distribute the marinade evenly, don't be scared to use your hands :) 
2. Heat up the pot on medium high heat with 1 tbsp sesame oil and ½ tbsp vegetable oil. 
3. Once the oil is hot, put the pork and 2 garlic cloves in, and stir fry until the pork turns white. 
4. Put the chopped Kimchi and red pepper paste in and pan fry for 5 minutes. 
5. Turn up the heat to maximum, adding the vegetable broth. Bring to boil. 
6. Let it boil for 5 minutes, scooping out the oil that appears on the surface. 
7. Turn the heat down to medium, leave cooking for another 5 minutes. 
8. Toss in the leek, mushrooms, tofu, onion, chili pepper and leftover garlic. Turn up the heat to max again and let the pot boil for 5 minutes. 
9. Turn the heat down to medium low, put the lid on and let it simmer for an additional 5 minutes. 
10. Turn off the stove and let the pot sit with lid on for about half an hour.* 
Tips: 
*You can eat it right away, of course, but we prefer to let it sit for a bit (it only gets yummier!). In Korea we would usually set up the table and prepare more side dishes in the meantime.