#28 Couscous & Rice Kimchi Bites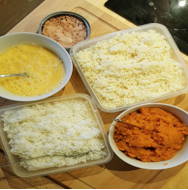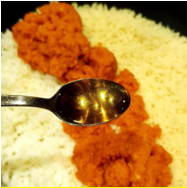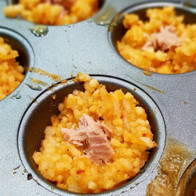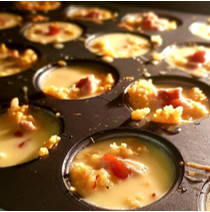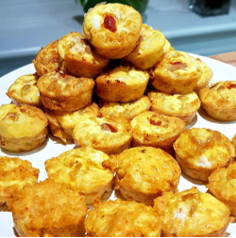 Delicious baked rice bites that can be eaten for for breakfast, lunch, picnic, dinner or in between.
Done in 45 minutes.

1 bowl of couscous, cooked
1 bowl of Basmati rice, mildly undercooked
½ cup Kimchi, minced in processor
4 eggs
½ cup Plant based, zero sugar milk - We used almond milk.

1 tbsp olive oil
1 tbsp Sesame oil
1 tbsp Soy Sauce
*Mini cupcake baking pan

Optional:

1 can of tuna in oil
1. In a big pan or wok, heat up the olive oil on medium low heat.
2. Once the pan is ready add couscous, basmati rice and minced Kimchi and mix them up together.
3. Once the rice mix is ready and warm, add the soy sauce and sesame oil to adjust the flavour.
4. Once the flavour is well adjusted, turn the heat down to a minimum to keep them warm.
5. Turn on the oven to warm up to 200 or 210 °C.
6. Batter the eggs with plant based milk together in a bowl.
7. In the mini cupcake baking pan, drop in sesame oil and olive oil.
8. In 1 baking cup, add 1 tsp of the rice mix and pour in 1 tbsp egg mix.
9. Once the oven is ready and the baking pan is ready, off they go.
10. It takes about 5 minutes for the eggs to be cooked. Don't go anywhere too far.

Liquid error: product form must be given a product