#24 Spinach Namul Ⓥ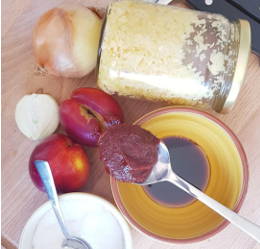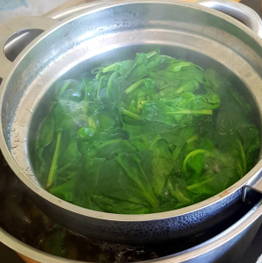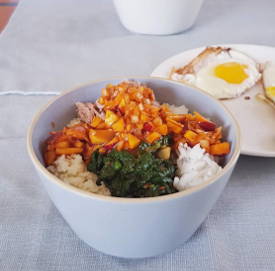 Spinach Namul (na-mool') is a great side dish that can go with many differnet meals. It is often seasoned very subtly with natural soy sauce and sesame oil. Buddhist monks have diversified their table by mastering all types of Namul which is now a well-appreciated cuisine in Korea.
Done in 15 minutes.

300 g spinach
1 minced garlic clove
1 tbsp soy sauce
1 tsp red pepper paste

1 tbsp sesame seeds
1 tsp red pepper powder

1 tbsp sesame oil

1. Bring water to boil in a big pot.
2. When the water is boiling, move quickly and toss all the spinach in. Stay at the stove.
3. When the spinach shrinks down, wait for another minute.
4. Remove spinach from the water with a strainer. Run it through the cold water right away.
5. Gently rinse and squeeze the water out of the spinach with your hands, or using a paper towel.
6. Separately mix soy sauce, garlic, sesame oil, red pepper powder and red pepper paste.
7. Add this mixture to the spinach and combine (best done with your hands).
8. Sprinkle sesame seeds to garnish.

Tips:
It's a quick and simple recipe, so make sure to move quickly as not to overcook the spinach. Keep it light with seasoning to have that subtle spinach flavor. Best served as a side dish with Kimchi and rice. Also perfect with sushi or in a poke bowl. Amazing on a toasted bread. Lasts in the fridge for up to 5 days.
We all know that spinach is very good for us, it's basically a superfood full of protein, iron, vitamins, and other minerals. It's one of those foods that are best consumed every single day. And here's one (Korean) way to go about it!

Liquid error: product form must be given a product