#23 Cucumber Kimchi with Feta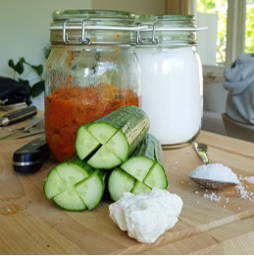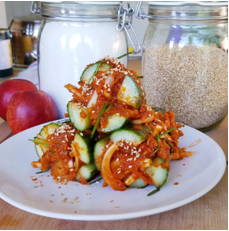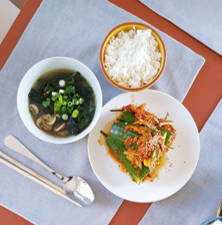 This is a perfectly light and fresh dish for warm spring and summer days when people start losing their appetite.
Done in 20 minutes.

1 cucumber cut in 3 equal pieces
½ sliced white onion
Sliced chives

1 tbsp coarse sea salt
1 tsp sesame seeds

1/2 cup Kimchi paste

1 tsp sesame oil
1. Make cross like cuts through ¾ of each cucumber piece (refer to photo).
2. Sprinkle sea salt over and inside the cucumber slices thoroughly. Leave for 10 minutes.
3. Rinse the cucumber pieces in cold running water quickly.
4. Mix the Kimchi paste with sesame oil, onion and chives.
5. Stuff this mixture into the cucumber pieces. Sprinkle with sesame seeds. Enjoy!
Tips:
1. Instead of Kimchi paste, you can use ½ cup Kimchi, 1 tsp red pepper paste, 1 tsp soy sauce and 1 tsp sesame oil.
2. Lasts up to 4 days in the fridge. It's not going to ferment and age like Kimchi, so better eat it fresh! But it's a good way to practice salting cabbages, if this is new to you :)
3. Fun fact: Cucumber Kimchi is served in Korea during springtime, when people lose appetite. The texture and the flavour help regaining the appetite.