#30 Baked Sweet Potatoes with Kimchi Stuffing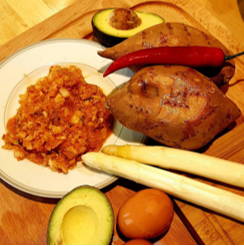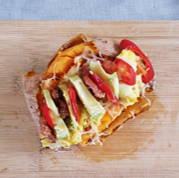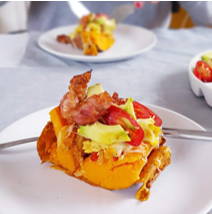 In Korea, it was quite popular to have steamed sweet potatoes with deeply fermented Kimchi as a winter night snacks.
Done in 75 minutes.

Small cup chopped Kimchi
2 eggs

2 medium size sweet potatoes
1 avocado sliced

1 chili pepper sliced
2 asparagus sliced

1 tsp soy sauce
1 tbsp red pepper paste

1 tsp cumin

1 tbsp sesame oil
1 tbsp olive oil

Optional:
Cheese of your choice
Bacon

1. Preheat the oven to 200 °C.
2. Poke the sweet potatoes with the fork and bake in the oven for about 1 hour or until soft and mushy on the inside.
3. In the meantime, heat up olive oil in the pan on a medium high heat.
4. Pan fry Kimchi lightly, then add red pepper paste, soy sauce and cumin. Once well mixed, add asparagus slices.
5. Stir fry for a couple of minutes, then turn the heat off. Add sesame oil and give it a good stir.
6. Set aside and heat up another pan. Scramble the eggs and set them aside too.
7. Distribute all of the topping on a plate as you like.
8. Give the sweet potatoes a little heck with the knife, add in the Kimchi mixture and bake for 5 more minutes in case you're adding cheese*.
9. Eat with the toppings mixed in or however you like.
Tips:
*If you're using regular cheese (like pasta cheese), after you baked potatoes for 45 minutes, cut them open, put the cheese inside and bake for another 5 minutes. If using plant-based cheese, just add it in the end without additional oven time.

Liquid error: product form must be given a product