#29 Summer Noodle with Korean Sauce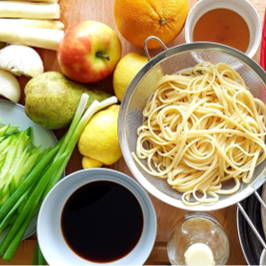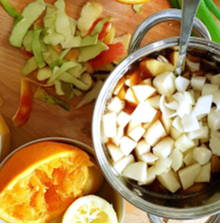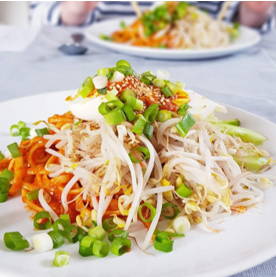 Korean noodle with sweet & sour red pepper paste sauce.The sauce contains so much fruit that it is refreshingly delicious and sweet.
Done in 30 minutes.

2 hard-boiled eggs

½ orange
2 lemons
1 apple
1 pear

1 cucumber sliced
1 handful bean sprouts poached
2 asparagus poached, sliced
1 onion diced
2 green onions sliced
1 tbsp minced garlic

1 cup naturally fermented soy sauce
1 cup red pepper paste

1 cup vinegar
½ cup sesame oil

2 servings of cooked pasta noodle

1. Roughly mix soy sauce, sesame oil, red pepper paste, and vinegar in a pot or a bowl.
2. Squeeze the juice out of the lemons and orange. Pour it into the mixture.
3. Peel and dice apple and pear. Together with onion and garlic add them to the mixture and blend everything with a blender.
4. Place the noodle in a separate bowl and add the sauce accordingly. Stir to coat the noodle well.
5. Place noodles on the plates, top with eggs, cucumber slices, green onion slices, asparagus slices and bean sprouts. Serve Kimchi on the side.

Liquid error: product form must be given a product