#22 Vegetarian Kimchi Chili Con Carne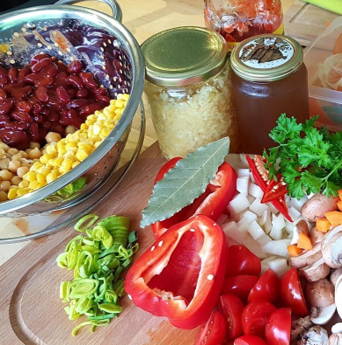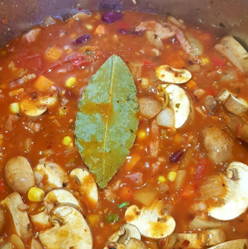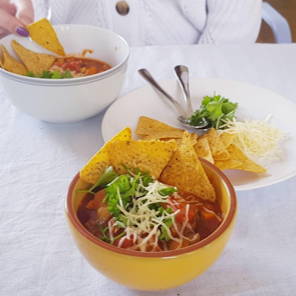 It is a perfect dish to use up all fridge leftovers like opened cans of beans, chickpeas, or tomatoes and leek.
 Done in 45 minutes.
2 diced bell peppers 
2 diced carrots 
½ sliced leek 
2-3 sliced chili peppers 
1 ½ diced onion 
5 minced garlic cloves 
Leftover tomatoes diced* 
Leftover leek sliced* 
5 sliced brown mushrooms 
1 can chili beans 
1 can corn 
Leftover chickpeas* 
1/2 tsp salt 
1/2 tsp black pepper 
1 bay leaf 
½ tsp cumin 
½ tsp chili powder 
½ tsp paprika powder 
Shredded cheese to top
1 cup chopped Kimchi 
Leftover vegetable broth* 
Leftover tomato sauce* 
½ tbsp tomato paste 
2 1/2 tbsp olive oil
1. Heat up olive oil in a pot on a medium high heat. 
2. Add garlic, carrots, Kimchi and pan fry for 5 minutes or until carrot is lightly cooked. 
3. Add chickpeas, onions and tomatoes, and pan fry for another 5 minutes or until the onion is transparent. 
4. Add tomato paste, cumin, chili powder, paprika powder, salt and pepper. Stir well, make sure everything is well mixed. 
5. Pour in tomato sauce and vegetable broth in the pot. Turn on the heat and bring to boil.Once boiling, keep on stirring and turn the heat down to medium. Add mushrooms, bell peppers, chili peppers, corn, chili beans, and leek. Keep on stirring, be careful - beans like to get "stuck" to the bottom of the pot. 
6. Let it boil for 10 minutes. Add the bay leaf. Close the lid and let it simmer on a medium heat for another 5 minutes.** 
7. Serve with doritos or slices of bread, top with some sour cream if you like, and fresh parsley. Enjoy! 
Tips:
*We challenged ourselves to use up those fridge leftovers for this recipe! #zerowaste We had 4 cherry tomatoes, a small piece of leek, ½ litre vegetable broth, ½ jar tomato sauce, and ½ can chickpeas patiently waiting to become part of some delicious recipe. Their time has come! 
**Be careful not to overcook, especially if you like firmer, crunchier veggies!Also: if you choose to add vegan "meat", adjust the amount of beans, chickpeas and corn accordingly.