#19 Creamy Kimchi Pasta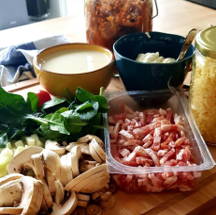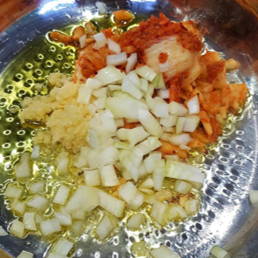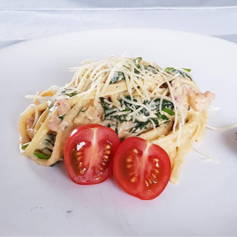 A creamy Kimchi Pasta recipe with bacon. For vegetarian options, lentils, beans or tempeh can be used.
Done in 30 minutes.

300 g sliced bacon*
2 handfuls spinach
2 tbsp minced garlic
½ chopped onion
5 sliced champignons
½ tsp salt
Black pepper to taste
2 cups unsweetened plant-based milk
1 cup chopped Kimchi
50 g pasta
200 g crème fraîche
2-3 tbsp olive oil

1. Cook pasta according to the instructions on the package.
2. Heat up olive oil in a pan on a medium high heat.
3. Add garlic, onion and Kimchi and pan fry them gently for about 3 minutes.
4. Add bacon to the pan and fry gently, making sure nothing gets burnt at the bottom.
5. Once bacon is ready, add crème fraiche, milk, champignons, salt and pepper into the pan and give it a good stir.
6. Add pasta and spinach, and stir until it absorbs the sauce and thickens.
7. Serve with toppings of your choice.**
Tips:
*Feel free to substitute with a vegetarian option, like lentils, beans or tempeh.
**We topped our plates with some cheese, you may also sprinkle some freshly grounded pepper and herbs.