#17 Kimchi Marinara & Tuna Pizza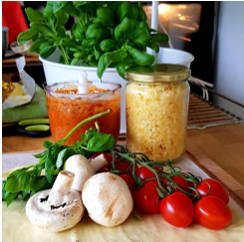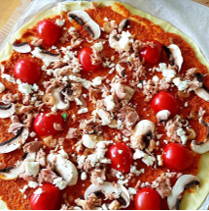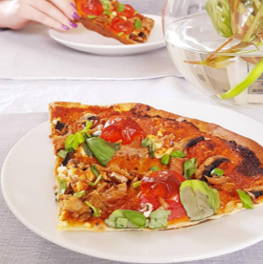 A delicious Pizza recipe - for 1 pizza. For vegan options Eggplants and Jerusalem Artichokes can be used. 
 Done in 45 minutes.
1/2 can tuna 
3 sliced champignons 
5 half-cut cherry tomatoes 
½ tbsp minced garlic 
½ chopped yellow onion 
Fresh basil to top 
1 pizza dough 
½ tsp salt 
½ tsp black pepper 
1 cup chopped Kimchi 
1 tbsp tomato paste 
2 tbsp tomato sauce* 
½ cup feta cheese 
1 tbsp olive oil
1. Turn the heat on the oven. For temperature follow the instructions on the pizza dough package. 
2. Heat up olive oil in a small saucepan on a medium high heat. 
3. Add garlic and onion, and once translucent add the tomato paste and Kimchi. Give it a good stir. 
4. When all well mixed, add tomato sauce, salt and pepper, and cook for another 5 minutes. 
5. Turn off the heat, let it cool down and put the mixture into a food processor or a blender for 30 seconds to create a paste. 
6. Distribute the sauce onto the pizza dough and add the champignons, tomatoes and tuna. Sprinkle with feta. 
7. Bake the pizza. For time follow the instructions on the pizza dough package. 
8. Top with some fresh basil. Enjoy! 
Tips: 
*If you have a marinara sauce on hand, feel free to substitute the tomato sauce and tomato paste and just add pan fried Kimchi to it.