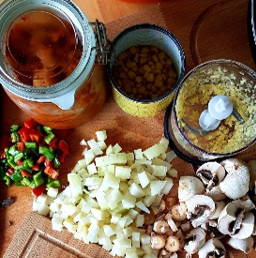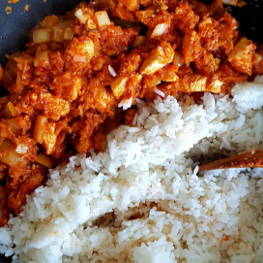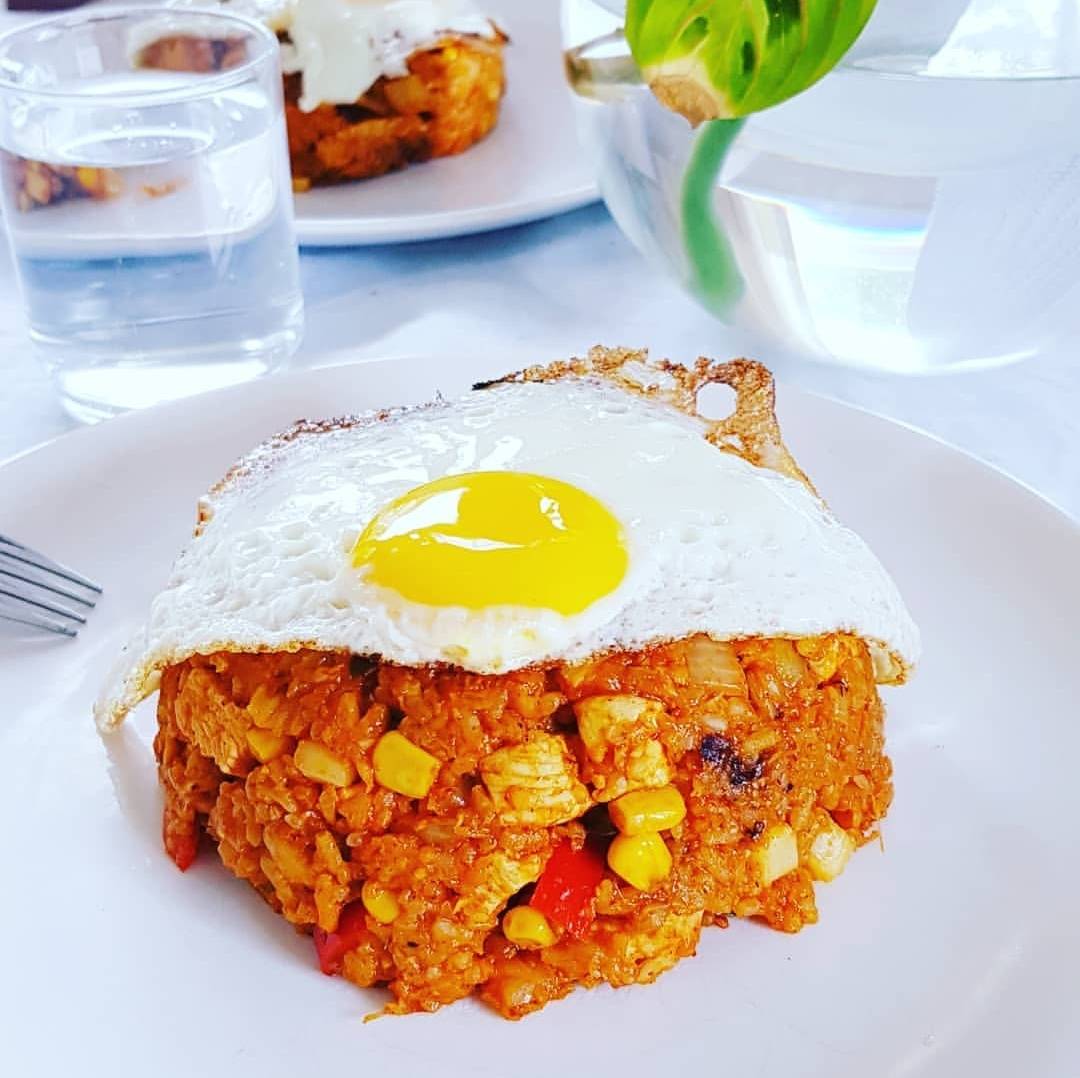 A Korean's ultimate comfort food. We added asparagus root tops for the crunchy bites.
 Done in 35 minutes.
1 diced chicken breast* 
1 diced onion 
4 minced cloves garlic 
2 sliced chilli peppers 
4 sliced asparagus tips** 
4 diced white mushrooms*** 
2 bowls (app. 4 cups) of cooked rice**** 
2 cups chopped Kimchi 
2 eggs 
1 tbsp red pepper paste 
1 tbsp soy sauce 
2 tbsp vegetable oil 
½ tbsp sesame oil 
1. Heat up 1 tbsp vegetable oil in a frying pan on a medium high heat. 
2. Put garlic, onion and Kimchi and fry for 5 minutes. Stir well. 
3. Place the chicken in, add soy sauce and red pepper paste and fry until the chicken is lightly cooked. 
4. Put the rice in and keep stirring, so that the dish is evenly cooked and doesn't stick to the pan. 
5. Once the rice is well mixed, add in the other vegetables. Stir thoroughly for another 5 minutes. 
6. Put the pan aside, add sesame oil and mix. 
7. Heat up another pan with 1 tbsp vegetable oil and fry the eggs to your liking. 
8. Serve Kimchi rice with the egg on top. Enjoy! 
Tips:
*We used chicken left from yesterday's Fajitas, but you can substitute for a different protein. We found that tofu, tuna, pork or simply eggs work best for this recipe. 
**We used stem parts, which provide a yummy texture, as well as a great way to use up those leftovers.***Optional: you can also add diced zucchini, chopped bell pepper, and canned corn for some natural sweetness. 
****For this recipe you can use any type of rice. We love the sushi rice. You can undercook it a little, because it is later exposed to additional heat during the frying part.