#13 Post King's Day Ramen with Kimchi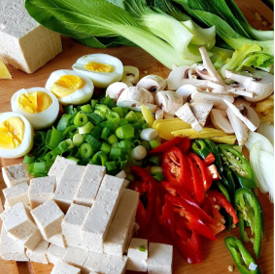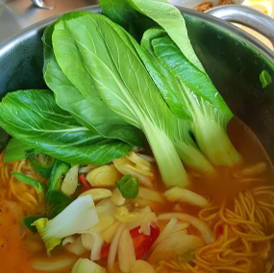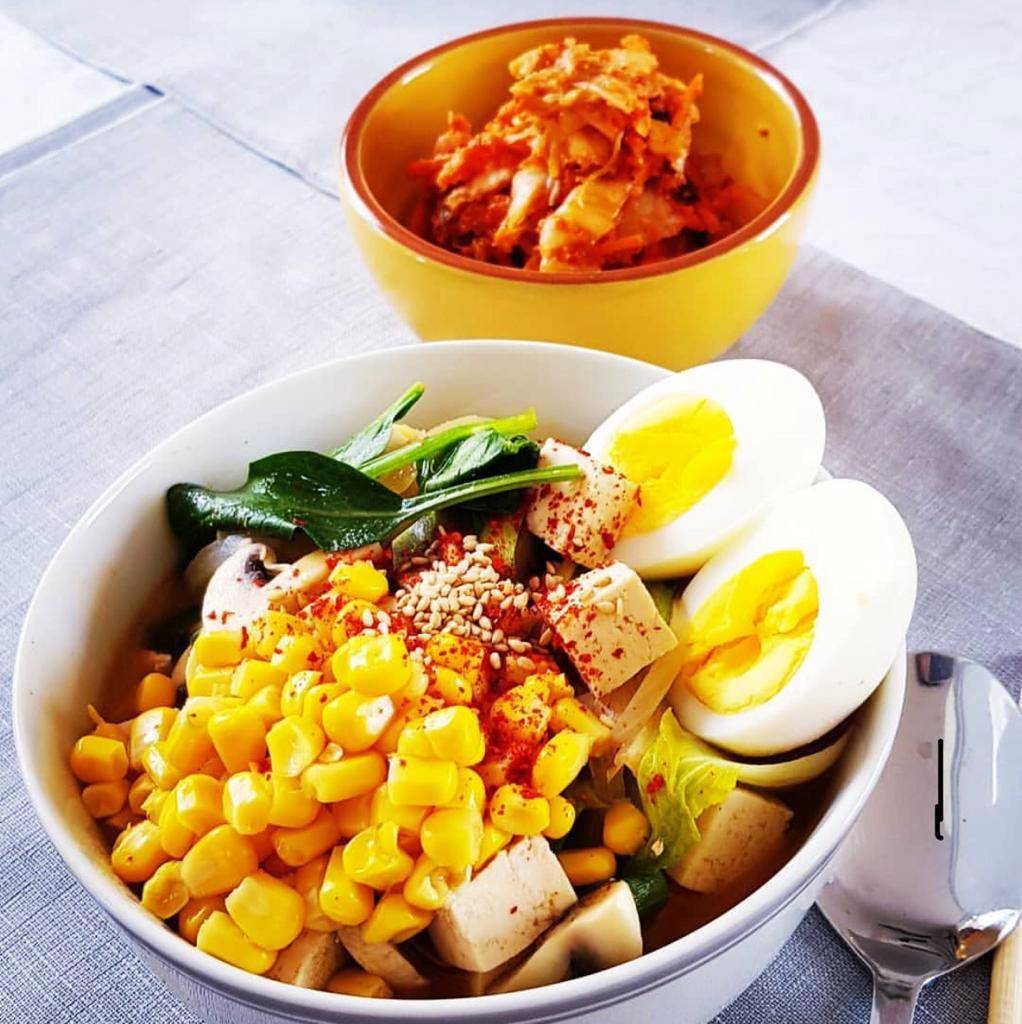 This super bowl of Ramen will help you recharge and recover from all the awesome parties you have been hitting and get you to keep going for more! Done in 30 minutes.
1 tbsp ginger slices 
4 garlic cloves sliced 
1-2 Bok choys 
3 spring onions sliced 
2 chili peppers sliced
1 yellow onion sliced 
5 champignon mushrooms sliced 
2 handfuls spinach 
¼ leek sliced 
3 asparagus tips 

Refrigerated:
200 g firm tofu (tip: you can use the Silk tofu for the soup) 
2 boiled eggs cut in halves (3-5 min) 

Canned Goods: 
4 tbsp corn 

Condiments:
2 tbsp soybean paste 
Soy sauce 
½ tbsp oyster sauce 

Pasta & Grains: 
2 servings of egg noodles or udon 

Baking & Spices: 
½ tbsp red pepper paste (start with that and adjust to taste)

Liquids: 
Veggie broth (to fill up 2 bowls) 
Boil up the vegetable stock and put it down to simmer. For the instructions on how to make one refer to our Veggie Broth & Udon Noodle recipe. 
Filter the soybean paste into the broth using a fine mesh strainer, in order to remove the soybean skin which can be bitter. 
Once the bean paste is well added to the broth, use soy sauce, red pepper paste and oyster sauce to adjust the flavor to your liking. You can even add some Kimchi during this step. 
Simmer for 15 minutes and once the flavor is adjusted, bring the broth back to boiling. 
Add noodles to the boiling broth, as well as ginger, garlic, onion, bok choy, chili pepper, and leek. Follow the noodles instructions for cooking (around 4-6 minutes). 
 In the last 1-2 minutes of cooking time add spring onions, mushrooms, spinach and corn to the soup. 
Serve in bowls with Kimchi on the side and garnish with some red pepper flakes to your liking.